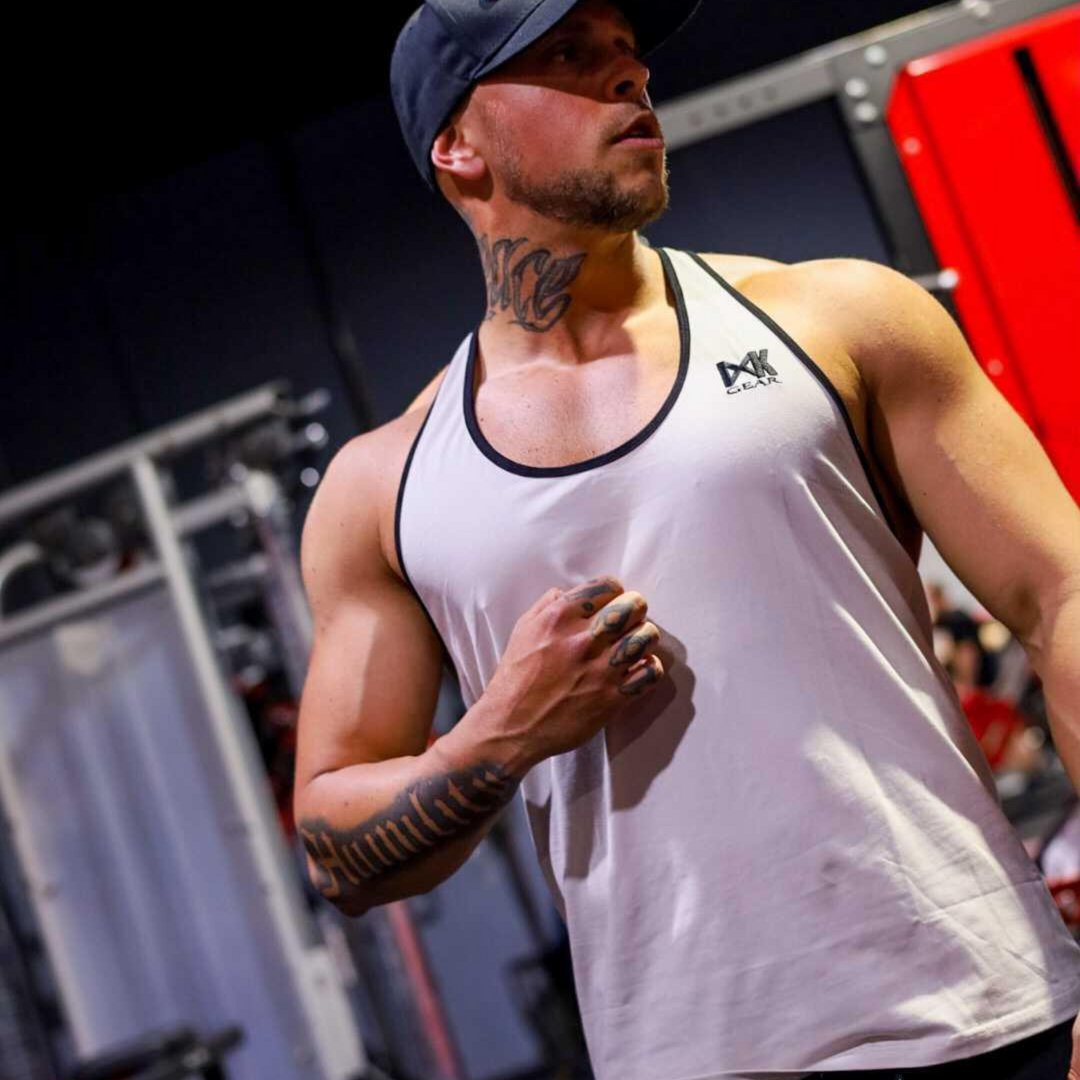 Classic Stringer - Black
Regular price
$20.00
Sale price
$18.00
Save $2.00
/
FREE Gift with Purchase (Worth $54.95)
Limited Stock Available - NO RESTOCKS
$5.95 Flat Fee Shipping - Australia Wide
Spend $99 & Receive a FREE IXK Gear Gym Bag (Worth $54.95)
Our IXK Gear Classic Stringer is an iconic piece for working out, a simple lightweight and comfortable stringer designed to emphasize your physique and all that hard work you put into yourself.
DETAILS:
IXK GEAR logo embroidered on the left chest
Soft, premium cotton finish
4-way stretch for the best contoured fit
Medium length
COLOURS: Black & Stone with Black Accents
FIT: The Classic Stringer runs true to size. Size up if you want a looser fit. Click here for the size guide.
The Stringer is paired well with our Cotton Stretch Shorts or Quick Dry Accent Shorts
---
NOTE: ALL MEASUREMENTS ARE IN 'CM'
IXK COTTON TEE 

PART  

S 

M 

L 

XL 

XXL 

LENGTH 

74 

76 

78 

80 

82 

CHEST  

100 

105 

110 

115 

120 

SLEEVE LENGTH 

32 

33 

34 

35 

36 
CLASSIC STRINGER  

PART  

S 

M 

L 

XL 

XXL 

LENGTH  

67.5 

69.5 

71.5 

73.5 

75.5 

CHEST 

96 

101 

106 

111 

116 

NECK  

79.6 

81.3 

83 

84.7 

86.4 
MUSCLE TANK  

PART  

S 

M 

L 

XL 

XXL 

LENGTH 

73 

75 

77 

79 

81 

CHEST 

96 

101 

106 

111 

116 

NECK 

71.6 

73.6 

75.6 

77.6 

79.6 
ACCENT SHORTS 

PART 

S 

M 

L 

XL 

XXL 

LENGTH 

40 

41 

42 

43 

44 

WAIST 

73 

78 

83 

88 

93 

FRONT RISE 

27.8 

28.8 

29.8 

30.8 

31.8 

BACK RISE  

37.5 

38.5 

39.5 

40.5 

41.5 
SWEAT SHORTS  

PART 

S 

M 

L 

XL 

XXL 

LENGTH 

46 

47 

48 

49 

50 

WAIST 

73 

78 

83 

88 

93 

FRONT RISE  

28.8 

29.8 

30.8 

31.8 

32.8 

BACK RISE  

38.3 

39.3 

40.3 

41.3 

42.3 
IXK GEAR MUSCLE HOODIE 

PARTS 

S 

M 

L 

XL 

XXL 

LENGTH 

74.5 

76.5 

78.5 

80.5 

82.5 

CHEST 

97.5 

102.5 

107.5 

112.5 

114.5 

SLEEVE LENGTH 

63 

64 

65 

66 

67 
MEN'S SLIM SWEATS 

PARTS 

S 

M 

L 

XL 

XXL 

LENGTH 

98 

100 

102 

104 

106 

WAIST 

73 

78 

83 

88 

93 

FRONT RISE 

27.7 

28.7 

29.7 

30.7 

31.7 

BACK RISE  

38.6 

39.6 

40.6 

41.6 

42.6 
MEN'S IXK TRACKSUIT (JACKET) 

PARTS 

S 

M 

L 

XL 

XXL 

LENGTH 

70 

72 

74 

76 

78 

CHEST 

99 

104 

109 

114 

119 

SLEEVE LENGTH 

76.5 

78 

79.5 

81 

82.5 

MEN'S IXK TRACKSUIT (PANTS) 

LENGTH 

98 

100 

102 

104 

106 

WAIST 

75 

80 

85 

90 

95 

FRONT RISE 

27.5 

28.5 

29.5 

30.5 

31.5 

BACK RISE  

37.9 

38.9 

39.9 

40.9 

41.9 
NOTE: ALL MEASUREMENTS ARE IN 'CM' 
NV LEGGINGS  

PART 

XS 

S 

M 

L 

XL 

LENGTH 

92 

94 

96 

98 

100 

HIP 

70 

74 

78 

82 

86 

WAIST 

54 

58 

62 

66 

70 
GYM SHORTS 

PART 

XS 

S 

M 

L 

XL 

LENGTH 

41 

42 

43 

44 

45 

HIP 

70 

74 

78 

82 

86 

WAIST 

54 

58 

62 

66 

70 
MESH SPORTS BRA 

PART 

XS 

S 

M 

L 

XL 

LENGTH 

30.7 

31.5 

32.3 

33.1 

33.9 

BUST 

70 

74 

78 

82 

86 

WAIST/BAND 

62 

66 

70 

74 

78 
IXK X SPORTS BRA  

PART 

XS 

S 

M 

L 

XL 

LENGTH  

19.5 

20 

20.5 

21 

21.5 

BUST 

70 

74 

78 

82 

86 

WAIST/BAND 

62 

66 

70 

74 

78 
QUICK DRY TANK 

PART 

XS 

S 

M 

L 

XL 

LENGTH 

66.5 

68 

69.5 

71 

72.5 

BUST 

88 

92 

96 

100 

104 

WAIST 

87 

91 

95 

99 

103 
WOMEN'S IXK CREWNECK 

PART 

XS 

S 

M 

L 

XL 

LENGTH 

60 

61 

62 

63 

64 

BUST 

91 

95 

99 

103 

107 

SLEEVE LENGTH 

68 

70 

71 

73 

74 
WOMEN'S SLIM SWEATS  

PART 

XS 

S 

M 

L 

XL 

LENGTH 

82 

84 

86 

88 

90 

HIP 

91 

95 

99 

103 

107 

WAIST 

62 

66 

70 

74 

78 
WOMEN'S IXK TRACKSUIT (CROP TOP) 

PART 

XS 

S 

M 

L 

XL 

LENGTH 

45 

46 

47 

48 

49 

BUST 

91 

95 

99 

103 

107 

SLEEVE LENGTH 

56 

57 

58 

59 

60 

WOMEN'S IXK TRACKSUIT (PANTS) 

LENGTH 

92 

94 

96 

98 

100 

HIP 

92 

96 

100 

104 

108 

WAIST 

69 

73 

77 

81 

85